ECommrece Website Development
Development: Expert With All major Platforms
Professional ecommerce development company for your ecommerce website
Customized ecommerce development solutions for your specialized needs to grow your ecommerce store. We offer ecommerce development services for every shopping cart and if you are unhappy with, we offer customized ecommerce design and development to realize your dream of a beautiful and fully-functional ecommerce website.
If you want a feature on your website just show us and we will make it happen for you with our team of professional and experienced ecommerce developers. EcommerceDA offers expert third-party integrations to add new and advanced features to your website. Whether it's a CMS platform, a custom website or a mobile app development we are here to provide you with the best in class ecommerce website development services with great customer service.
So give us a call or fill out the form we would love to hear from you
Get free Consultation
We are only a few clicks away
EDA is a Top Rated Development Agency
ECOMMERCE DEVELOPMENT
Ecommerce is the way of the world now with more than 50% of transactions made electronically last year shows that the new age is the age of ecommerce. We have been in the ecommerce industry for many years now and have satisfied hundreds of our clients with our professional ecommerce development services for websites and mobile applications. We have worked with every CMS platform in the market and know all of their pros and cons to counsel our customers in making the right decision and then providing them with the ecommerce website of their dreams. With the help of API integrations, we enable our clients to offer updated features to their customers. Your business is our first priority.
 Optimized for Speed & Performance:
Your website or mobile app is your first frontier that is why we make it our foremost priority to provide you the best quality ecommerce web development services for high speed and excellent performance. We make sure to add only the best features to your website for better customer experience.
 Responsive:
We provide our customers with only the best responsive ecommerce design for high rankings and more conversions. At EcommerceDA, our first priority is to offer ecommerce development that makes sure that your customers can access your website anywhere and through any device at their disposal.
 Developed Exclusively in-House:
One thing that you can trust with your eyes closed are our in-house services. We hire only the best ecommerce developers experts in website and mobile application as well as third-party integrations to provide our customers with the best possible and holistic development solution for their specialized digital needs.
Advanced Features and Integrations:
Whichever platform you choose for your ecommerce website, it cannot provide you with a complete set of features. Every CMS platform lacks in some features that is where we come in with our expert integration services to provide you a complete package to realize your dream of a holistic website.
Clean Code:
At EcommerceDA we don't aim to provide you with just ecommerce development services, we are laser focused to provide you the best and professional development services that are SEO-friendly to not only make your website fast and beautiful but visible to the customers as well with our clean and optimized coding.
 Secure Store:
For us a secure store is better than a beautiful store. We are invested as much in your as you are that is why we provide top-quality secure website to make your business and your customers data safe from fraudsters and cyber security threats
Our eCommerce Web Development Services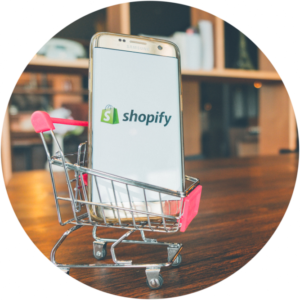 Shopify Development

Shopify is the most preferable platform for all kinds of business from small scale business to enterprise level, any business can benefit from the features of the most successful ecommerce platform online. Shopify currently host over 800,000 store serving in a wide array of countries. We have been providing best in class design and development services to our customers. We know every in and out of Shopify, giving us advantage over our competitors. You can grow your business from a startup to a fast growing online sensation with our professional Shopify ecommerce development services. We got you covered from design and development of user-friendly interface to SEO of your Shopify store for a holistic ecommerce experience. Hire our professional team of Shopify developers for a complete package.
BigCommerce Development

Become a part of the second best ecommerce platform in the world by choosing BigCommerce. BigCommerce offers the most customer-friendly website with stunning and flexible design and a huge range of features for a great ecommerce website. They offer true global experience with their ecommerce services being used in over 120 countries. BigCommerce offer built in SEO integrations to help your agency partners provide you competitive advantage. We have been providing BigCommerce development services to our customers for a long time. We are familiar with the platform and how it operates giving us the ample ability to provide our valuable customers with the robust, stunning and eye-catching design for high rankings and even higher ROI. So, Hire the best, Hire EcommerceDA. Remember we are only a few clicks away.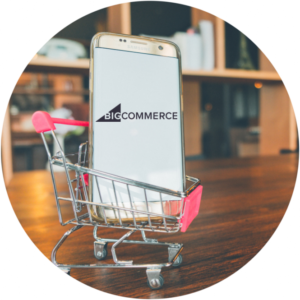 If you are looking for the fastest growing ecommerce platform in the world, Magento is the answer for you. Become a part of the world's most stylish ecommerce platform with our state of the art Magento development services. Experience the true power of Adobe's designs with Magento with our extensive knowledge of Magento themes and platform.

Volusion brings with it the ecommerce experience of 20 years making it one of the oldest CMS platforms still in business. Join the most favored ecommerce platform by entrepreneurs around the globe and enjoy the best in the business customer service. Looking for a Volusion expert, you got it, just ring us.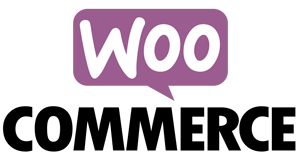 Enjoy the true power of WordPress with WooCommerce. You can turn your WordPress website into a high grossing online store with WooCommerce. Leverage a huge collection of features and integrations of WordPress with our professional ecommerce development services. We design WooCommerce stores that generate constant growing ROI.
EcommerceDa — Your Leading eCommerce Web Development Company
EcommerceDA: The Best Ecommerce Website Development Company
EcommerceDA is one of the pioneers in the industry and leads in the website development segment. With our years of experience and a whole team of industry leaders working for us, we have the right tools and people to develop the best eCommerce website for you.
The best Custom eCommerce Development Company Works diligently while focusing on your goals and providing solutions to your individual problems. Problem-solving and technical expertise go hand in hand in eCommerce Development Services, which is why we prioritize them above all.
Plus, EcommerceDA is dependable. We are available 24/7, proactive, and ready to bring you the answers you are desperately looking for. We are innovative with an eye for detail so that the website development services you receive are as unique as your business.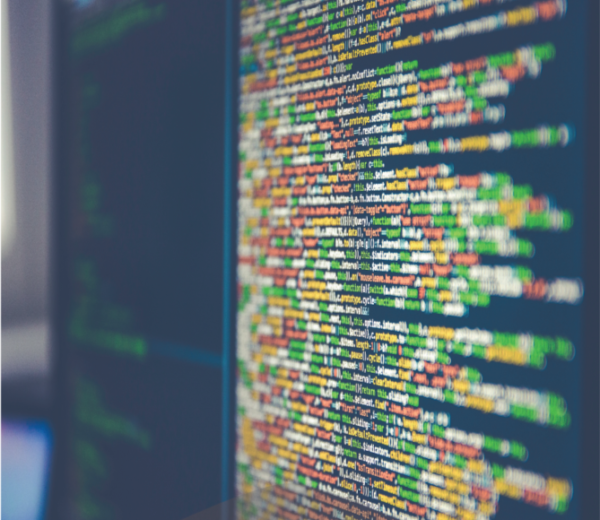 Why Hire Our eCommerce Web Developers?
Not to toot our own horn, but EcommerceDA is one of the best in the market. With more and more businesses going online, there is an influx in the need for more experienced professionals to offer Ecommerce Development Services efficiently.
Here is Why we are the Best Option for You?.
High-Quality Results
One of the biggest reasons why you should get eCommerce development services from us is because we always deliver high-quality results to you. Regardless of how complex the website design is, our priority is to deliver high-quality results in the time we promised. From the functionality of the website to the actual design of your eCommerce store, you will get what we promised in the best possible quality.
Experienced Team
EcommerceDA is an eCommerce development company that only hires the best of the best. With our priority on quality, it is our focus to hire industry leaders and pioneers from all over the world and bring them under the banner of our company. The crème de la crème of the development world works with us and when you hire eCommerce developer services from us, you get their specific input and work.
Development Portfolio
We are not stuck with only one kind of clientele. We prefer to work with a whole plethora of clients from all walks of life and niches. From some of the biggest brands in the world to start-ups, we have created websites, developed eCommerce stores, and helped them achieve the results they desire. You can view our lists of clients in our portfolio to get an idea of what kind of development we are best at!
Effective Communication
EcommerceDA is available at your service 24/7. Our dedicated team of customer services representatives is an integral part of our eCommerce development company and they play a vital role in the success of our company. Our queries will be handled immediately and proactively. Just send us an email with your questions or call us at 1-888-244-9140 and we will address your issues immediately. No waiting and no holds!
Custom Web Solutions
One of our pride and joys includes custom web solutions. Each business is individual, which means each business has unique issues and goals. There is no cookie mold that will fit every business and we at EcommerceDA understand that. This is the reason why our team leaders and managers work closely with our clients to offer unique and custom solutions so that the problems and queries get handled effectively.
Role of an Ecommerce Web Developer?
Contrary to popular belief, the work of an eCommerce Web Developer is not easy. They are the ones who will lay the foundation of your website before the other parties can come in and add in their layers of work to complete your website. A lot goes into the background and most of it is done by the developer that works for your eCommerce Development Company.
Here is what your eCommerce Developer does for you and the role they play in the success of your eCommerce store.
Maintaining and creating the website structure so that it is compatible with the most popular website browsers, mobiles, search engines, and tablets.
Creating and updating new and old products, creating the website catalog, and managing the inventory for all levels.
Make the eCommerce website easy to access, navigate and ensure the website has high-quality
Work proactively to identify new opportunities for growth and improvement for conversion rates and keep an eye on the sales and costs of the products.
Implementing and creating new marketing strategies for your eCommerce store based on the industry trends and the consumer data on your website.
Shopify & WooCommerce: Ecommerce Development Agency
With the way the world is changing, more and more businesses are going online. However, setting up your eCommerce business is not as easy as it used to be. With competition popping up every few hours, it is necessary that you give your business as much of a boost as possible.
That includes hiring a state-of-the-art eCommerce web development company to build your website from the ground up and make sure you get all the advantages you need to shine among the rest of the eCommerce stores in your niche.
From considering the niche market to the expertise of the eCommerce web developer of your choice, there are some things that need your immediate attention. For example, you need to decide which platform you will choose to build your eCommerce store on.
Popular Platforms
Currently, Shopify and WooCommerce are one of the most popular platforms for new and upcoming stores to build their stores on. However, they are not new platforms in any regard. The most experienced and pioneer eCommerce developer and eCommerce development services providers will tell you how deep their history goes on these two platforms.
AIt all goes down to what you prefer, what you want from your eCommerce store, and what you expect to achieve from the design the eCommerce development agency will make. This is one of the biggest reasons why you need to hire eCommerce developer who understands what you want from this new project and how to help you achieve these goals.
When you are discussing important features with your eCommerce website development company don't forget to discuss the following.
Design needs and expectations
The Budget set aside for the platform fee
Hosting options and prices
Scalability of the platform your choice
Usability of the platform
SEO capabilities and susceptibility
Integration options and plugins for better performance
Ecommerce Website Development Services are Built for Online Success
eCommerce Website Development

The eCommerce website development company creates opportunities for the eCommerce business to generate growth and more ROIs. A good and experienced eCommerce development agency brings a lot of advantages to the table as compared to an in-house team of developers.
While both of them have perks, the advantages that a custom eCommerce development company offers outweigh those of an in-house team. Here is why you need to consider getting eCommerce development services for your website, especially if you want online success.
Creates Brand Image: A good website developer will make sure your website reflects the brand image of your business.
Expands the Business: In the hands of an experienced professional, your business's reach will expand and will also increase your target audience pool.
Easy Marketing Opportunities: The eCommerce developer will make marketing easy for you and allow you to run more successful campaigns with relative ease.
SEO-Friendly eCommerce Website Development
SEO plays an important role in the success of any online business and eCommerce websites are no different. Search Engine Optimization is the backbone of your online presence and your online success. This is the reason why every eCommerce Development Agency hires a team of SEO specialists and professionals to tackle all the obstacles that may come in the way of your online success. It takes a lot of effort to integrate SEO into the basic structure of the website so that things go as seamlessly as possible.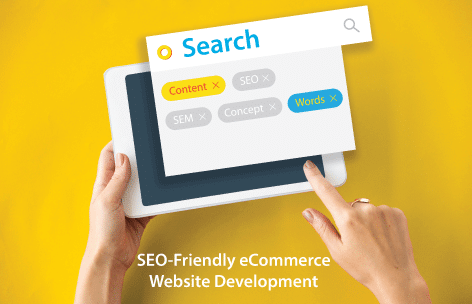 An SEO-friendly eCommerce website will always feature high-quality backlinks that will prove to be more useful for your website and give you a marketing edge. They will also create high-quality content to go with the backlinks. They will offer ample opportunity for your eCommerce store to gain domain authority and make sure you get a brand identity. The SEO experts will also ensure your website page loading time is minimal and the website is more user-friendly for best results.
Things To Consider in Ecommerce Website Development
A good eCommerce Website Development Company will always share the eCommerce website development process with you. The process is long, complicated, and needs many different factors to work together seamlessly to bring you the end results you desire.
Think of your eCommerce website development as a puzzle that is made up of different, jagged-edged pieces. One wrong piece in the wrong place and the puzzle will fall apart. Every piece needs to fall in place or else nothing will work and nothing will make sense. This is the reason why you need to get an experienced eCommerce Development Services provider such as EcommerceDA to get the job done right the very first time.
Responsive Design
It all begins with a responsive design. Your eCommerce website is useless without a responsive design. A responsive design is user-friendly; it navigates easily and has every useful product, category, and link right in front of the eyes of the paying customers. Seems so simple, yet it needs a lot of dedication.
SEO Capabilities
Your website needs to be SEO-capable to be able to do well online. Search Engine Optimization has become a necessary part and the eCommerce Development Agency will hire a dedicated team to provide complete keyword research, white hat SEO practices, and marketing strategies to deliver first-page results for you.
Site Speed
Website speed matters a lot. You have a very short window to make sure your customers stay and make a purchase. However, if your website loading speed is slow, they will not stop to make a purchase. They will hop out of your website and hop into your competitions to get what they want. Your developer company will make sure the website speed is fast!
Content Management System
How will to manage your products, inventory, and the overall content on your website? You will need a Content Management System or CMS. Your Custom eCommerce Development Company will make sure you get proper CMS training to manage your website on your own or even keep an eye on things when the time requires it.
Product Management
You need to understand product management and how to keep track of your inventory. The eCommerce Web Developer will create a simple yet efficient system that will be easy to keep track of and easy to manage. One-time training will be enough for you to add, remove, check inventory and keep track of your products.
Payments and Checkout
Creating a safe payment and checkout system is the life source of your website and eCommerce store. Without them, your business cannot survive. If you cannot get payment from your customers on the website and they cannot check out their shopping cart, they will not come back or even make a one-time payment.
Security
If your eCommerce website is not secure, you can kiss your customers and the sales bye. The eCommerce Development Company will make sure the information your customers provide remains safe on your server. This will include their address, their credit card information, banking information, personal information, and more. So having a secure SSL link is very important.
Integrations
Integration or optimization is absolutely necessary, especially if you want to do better Search Engine Optimization wise. The eCommerce Development Services provider will work on mobile integration so that even the most casual user will get a chance to buy a product, even if they don't intend to at the moment.
Marketing Strategy
A sound marketing strategy can make or break your business. An eCommerce business will need a strong marketing strategy and a digital ad campaign that will drive the customers to your eCommerce business. It will target the right demographic and audience so that your chances of increased ROIs and sales are high.
eCommerce Web Development Process
The Ecommerce web development process is not complicated on the surface, but it is truly an intricate process that only the experienced can handle. The eCommerce development company USA such as EcommerceDA puts a lot of effort into making sure each of the processes goes through seamlessly. With our experience, industry-leading tools, and fabulous team, the eCommerce development process becomes flawless.
Here is what our process entails.

Preparing Layout
Preparing layout is how the process starts for a good eCommerce web development company. The team leaders and experts will sit down with you and get an understanding of what you want from the website development. Once we have an understanding of what you want, we will create a layout that you will first approve, and only then we will start working on it.
Business Requirement Analysis
However, just understanding what you want is what you need for your business's success. Sometimes, what you require is not suitable for your business, especially if it goes against your business's market and targeted audience. Our team will analyze what your business requires, share that with you and then create a plan that works best for you and your business.
Designing of Prototype & Reviewing
Once we have finalized the nitty-gritty of the design and layout, we will start with designing a prototype of the design both you and our design team have agreed on. While most eCommerce development services providers use premade templates, our team does the exact opposite. We will create a new design from scratch and then send it in for review from you. Once you accept the design, we move on to the next step.
Coding for Web App
If you have chosen a platform like WooCommerce you will need a web app to make sure your eCommerce store runs smoothly on the platform. While the Shopify platform is made for eCommerce businesses, WooCommerce is not. It needs additional plugins and a dedicated web app. Our team of technical leads will handle that for you and present you with a fully functioning website in no time.
Testing & Launch of Web App
Once the web app is ready, we will first test it. Designing the app is only the first part of the process, the second phase of the process begins when our Quality Assurance team starts testing the web app. They will test the web app as any paying customer would once the website is launched. There will be a need for changes before it is ready to be launched and integrated into your website.
Read More

Read Less




Custom Ecommerce Development Company


As the name suggests, a custom eCommerce development company develops and designs unique eCommerce solutions specifically for your business. The team of professionals will conduct a thorough analysis of what your business requires, what it demands, and what it needs to thrive and turn a profit.
It starts with research of the targeted audience and ends with planning user experience to get maximum impact with ROIs. From the design of the website to the business implementation plan, everything is designed specifically for your business.
EcommerceDA is one of the very few custom website development companies that deliver authentic results. we work diligently to provide the best digital experience to your customers while you enjoy sales and profit every hour.


Custom Ecommerce Development Services

As part of our custom eCommerce development services, you get:
Custom UI Themes
Optimized Checkout Section
SEO-Integrated Website
On-site Personalization
Custom Business Logo
Content Advertisement
Advanced CMS with Latest Tools



Advantages of Hiring a Custom Ecommerce Development Company

There are countless advantages of hiring a custom eCommerce development company or any eCommerce website development services provider. While both of them can get you the results you want, only one of them can get you what you want and what your business needs to thrive and that is the custom services provider.
Some of the most prominent advantages include:
The custom website development services are cost-effective
You get access to global talent that uses the latest technologies and tools to get the job done.
You get to save time while you increase the productivity of the team.
Access to flexible timings and more focus on your core business rather than everything at once.

These are just some of the advantages you get when you hire a custom eCommerce development company. They will work with you rather than for you. This helps with a core understanding of your business to get top results in a shorter span of time.



Your Revenue-Driving Ecommerce Website Development Checklist


When done right, eCommerce website development can improve your business. Besides giving you a beautiful eCommerce store to make money from, your eCommerce store can become a constant source of income with steady ROIs and incoming money.
However, it all depends upon the eCommerce development agency you hire and how they approach developing your website. While some companies will use a cookie-cutter approach, some companies take a while custom design approach to make the website fully and uniquely yours.
In fact, there is a checklist for you to tally and check your company to see if they are the right match for you. To help you out, here are the three most important factors from the checklist.


You cannot hope to get great results from the very start, but if you are not seeing results after even six months of business, then this means your eCommerce website development company didn't pay attention to digital marketing. You need to come up with unique and proactive marketing strategies to bring your business and website to the mobile screens of your targeted audience and the work for that starts at the most basic level of website development.


User experience can make or break your eCommerce store. If your users are not happy with the website design, page loading speed, design, or mobile optimization, the chances of them staying or coming back again are very slim. This is the reason why you need to make sure the company you hire puts extra focus on user experience.


How can you expect to survive in the tough eCommerce market without proper Search Engine Optimization? Your eCommerce developer needs to put extra focus on SEO and give your store all the edge it needs to do well and at least match your competition in every aspect. With proper keyword research and a good team of SEO experts, you can conquer Google listings and page results in a matter of weeks.
Real Customer Testimonials
Fantastic Work! By an awesome team. Helped me from redesigning my Shopify store to marketing. I am loving everything they did. It is awesome experience working with them.
I needed a website for my apparel business. They handled every thing very well. EcommerceDA has a team of real gems. It was an awesome experience working with them.
EcommerceDA helped me to increase my store sales. These guys are professionals. Within a short span of time majority of the keywords got ranked on first page. Great work guys!
Get in touch with us to know more about our services, we would love to analyze your ecommerce website and provide you free consultation services regarding your ecommerce business!
Just contact us and our tech support team would provide you the knowledge about our services in details and also discuss important requirements of your ecommerce website for improvement in your business. We provide all services related to ecommerce to make your dream come true.